Art Books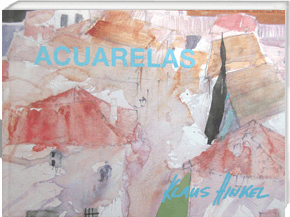 "ACUARELAS"
Numerous new watercolours of Andalusian towns and white villages, especially Frigiliana and his people. The book is written in spanish, english and german.
63 pages
Hard Cover
ISBN-978-3-88778-367-9
14.80 € + 2.50 € postage

(Versand innerhalb Deutschlands kostenfrei !)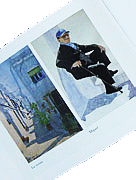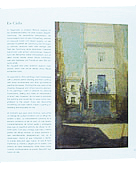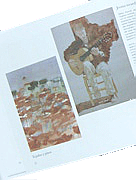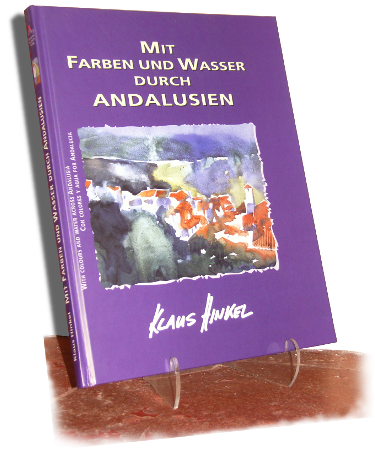 "WITH WATER AND COLOURS ACROSS ANDALUSIA"
by Klaus Hinkel
... is an inspiring collection of watercolours of Andalusian scenes and landscapes painted over several years. Through numerous excursions the artist is able to capture the special light and the characteristics of the most southern region of Spain with his individual way of painting. The routes which are introducing each chapter are opening a door to the reader and give him the possibility to follow the artist´s voyage.
Available in German, English and Spanish.
German
Hard Cover SOLD OUT
108 pages
ISBN 3-88778-225-9
24.80 € + 2.50 € postage
"WATERCOLORS WASSERFARBEN AQUARELLIEREN"
by Klaus Hinkel
Dieses Buch vereint Theorie und Praxis des Aquarellierens. Es vermittelt Kenntnisse über bestimmte, für den Malprozess wichtige Eigenschaften der Aquarellfarben und, was viel wichtiger ist, wie SIE SELBST die Farben auf diese Eigenschaften hin untersuchen können. Anhand von Bildbeispielen und erklärenden Zeichnungen vermittelt dieses Buch viel Wissenswertes über Perspektive, Bedeutung des verwendeten Materials, Maltechniken und der Bildplanung mit Hilfe von Tonwertskizzen.
Der Autor legt großen Wert auf Experimentierfreudigkeit und will dem fortgeschrittenen Aquarellmaler dazu inspirieren eigene Wege zu gehen.
Aquarellbuch in deutscher Sprache.
German
Hard Cover
108 pages
ISBN 3-88778-198-8
16.40 € + 2.50 € postage
Versand innerhalb Deutschlands kostenfrei !